Helllloooo ho ho ho! As my diary is starting to fill up with Christmas orders I thought I'd share some hints and tips on creating your own festive portrait to spread some smiles this festive season. Have a go and if you need some advice ping me a message and I'd be happy to help!
What you'll need…
…Anything you can draw with. This article isn't about replicating my style but finding your own way with it. This year has been challenging enough on the financial front for many so the last thing I want is to share a list of pricey art stuff you might not use again (although I hope you will because art is fun! :-)).
Soooooo to get started you'll need a photo of the person you'd like your portrait to be of for reference; I find forward facing snaps the most helpful; and anything you can draw with and on, then you're good to go! As an optional extra I also recommend a warm drink and a biscuit.
For the purpose of this article I am using some biros I found in a drawer and a back of an envelope to show it's not all about the fancy art stuff.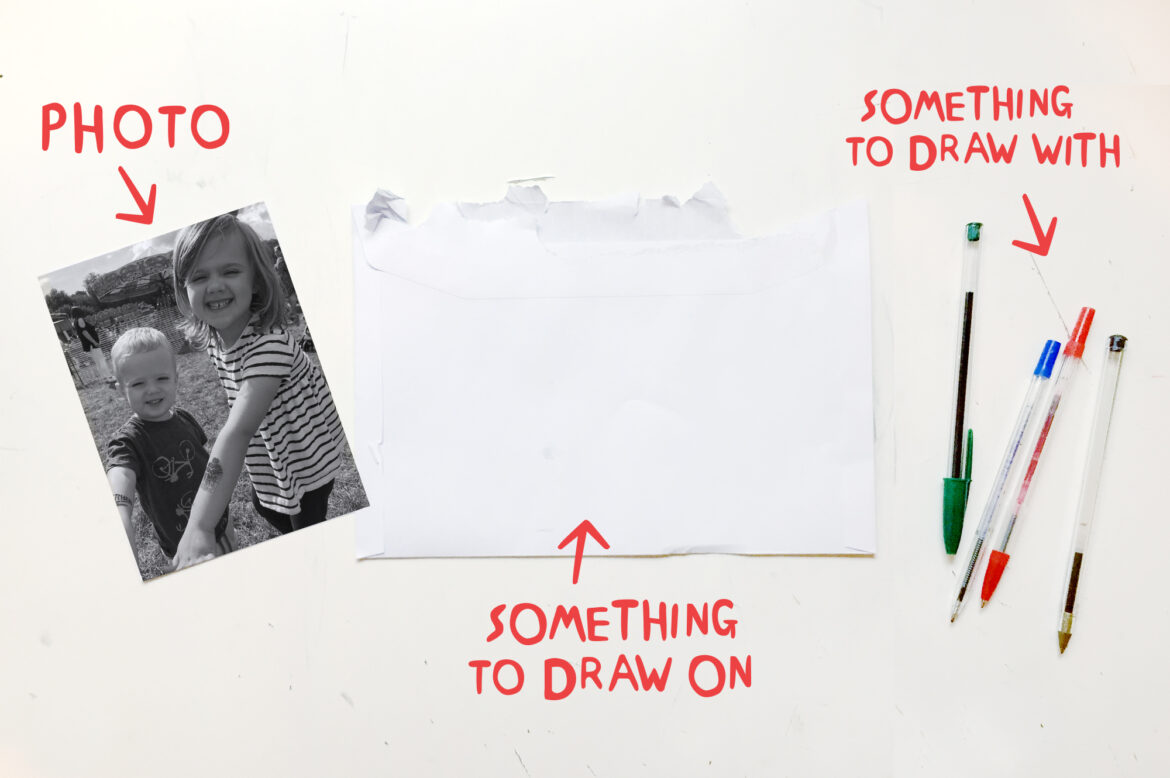 Doodling faces
When drawing faces I tend to pay most attention to distance between the different facial features. It's why on a lot of my sketches I have little notes to myself like 'move eyes closer together' or 'shift eyebrow to the left slightly'. With my style I am not looking to get a realistic impression of the person I am drawing but trying to find some likeness. By moving features even slightly this can make a real difference and it means however you draw your eyes, ears, mouth etc. it can help to give some resemblance of the person your are drawing.
Here's a little example.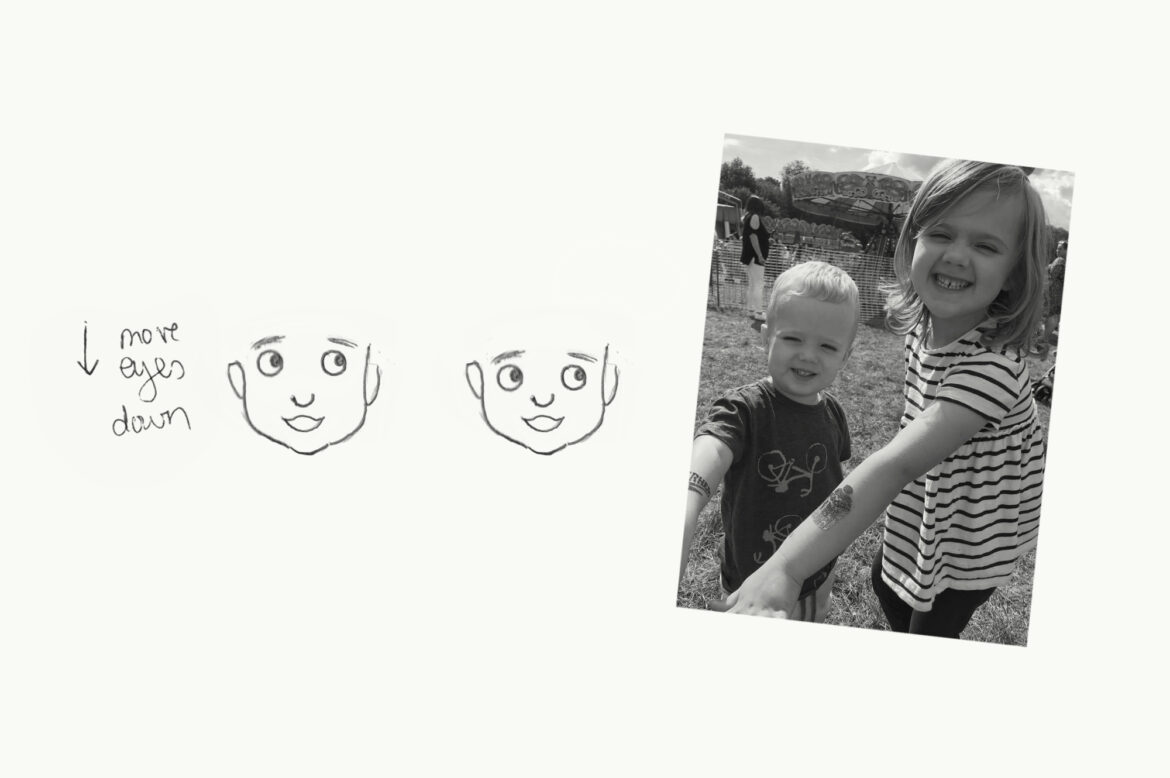 On the left is a doodle of the face where the eyes are higher and by moving them down it looks closer to photo of young William. You'll notice I haven't drawn the top of the head. This is because I will be popping on a Christmas hat.
HANDY TIP: THE MORE LOW DOWN YOU DRAW FACIAL FEATURES THE YOUNGER A PERSON TENDS TO LOOK.
Own your style
The brilliant thing about art is anything goes. This means if you want to simply have dots for your eyes or opt for a more realistic illustration, whatever you choose for this is your style so be confident with it (or at least okay with it; us artists tend to be modest :-)). The more you draw the more your style becomes more natural. And the less you think about it too.
HANDY TIP: THINK ABOUT WHAT YOU'RE DRAWING IN TERMS OF SHAPES RATHER THAN WHAT IT ACTUALLY IS WHICH CAN SEEM MORE DAUNTING. SEE SAMPLE BELOW: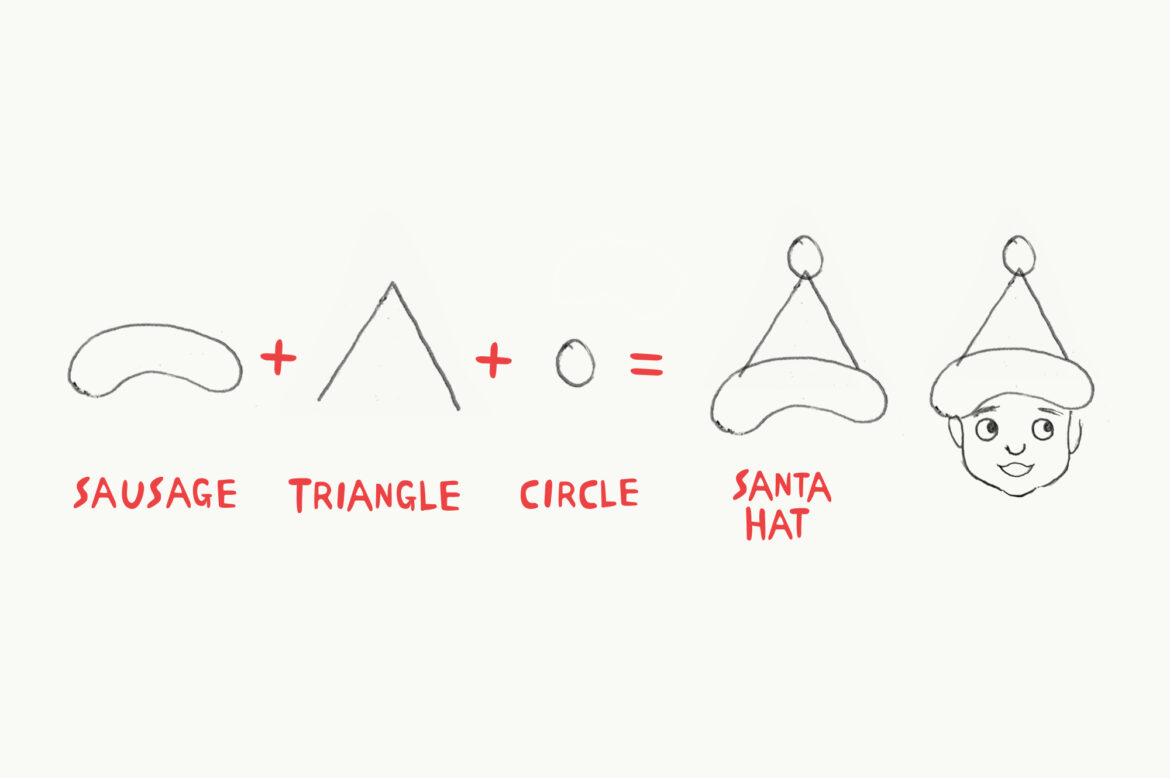 Make it festive
Let's start with the body. In this instance I have simplified the style to a semi circle and two lines… Play around with the height and width of the semi circle and where you place the lines to suit the person you are drawing.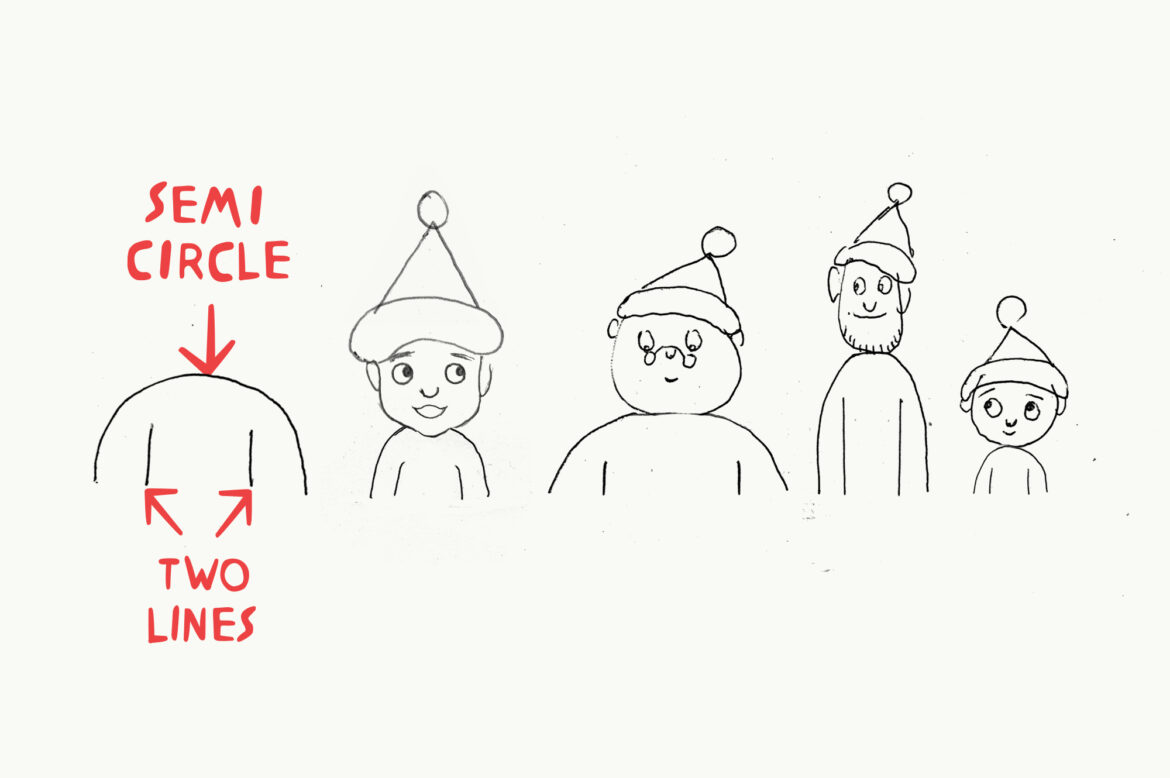 Now you have the body it's time to add some fun festive details to the jumper. This is the time to let your creativity flow; from Christmas Puddings or, the main man, Santa himself there are lots of festive items you could pop on your jumper. Feeling nervous? Why not opt for a simple red and white stripe number or white circles on blue to look like snow. With the Christmas hat these are winning combinations!
Feeling more confident and also like the red and white stripes are too similar to a football team you're not a fan of why not do a little doodle of a Snowman or a Reindeer. Below are a couple of ideas broken down into shapes again to help you along the way: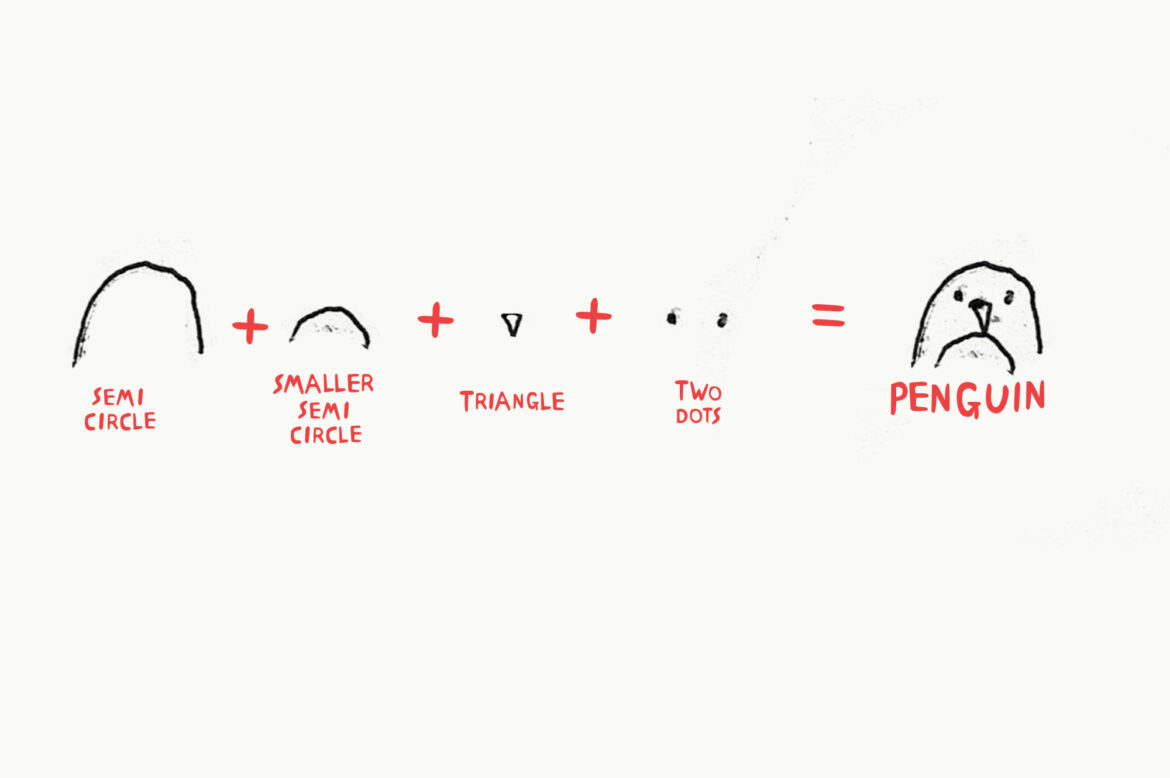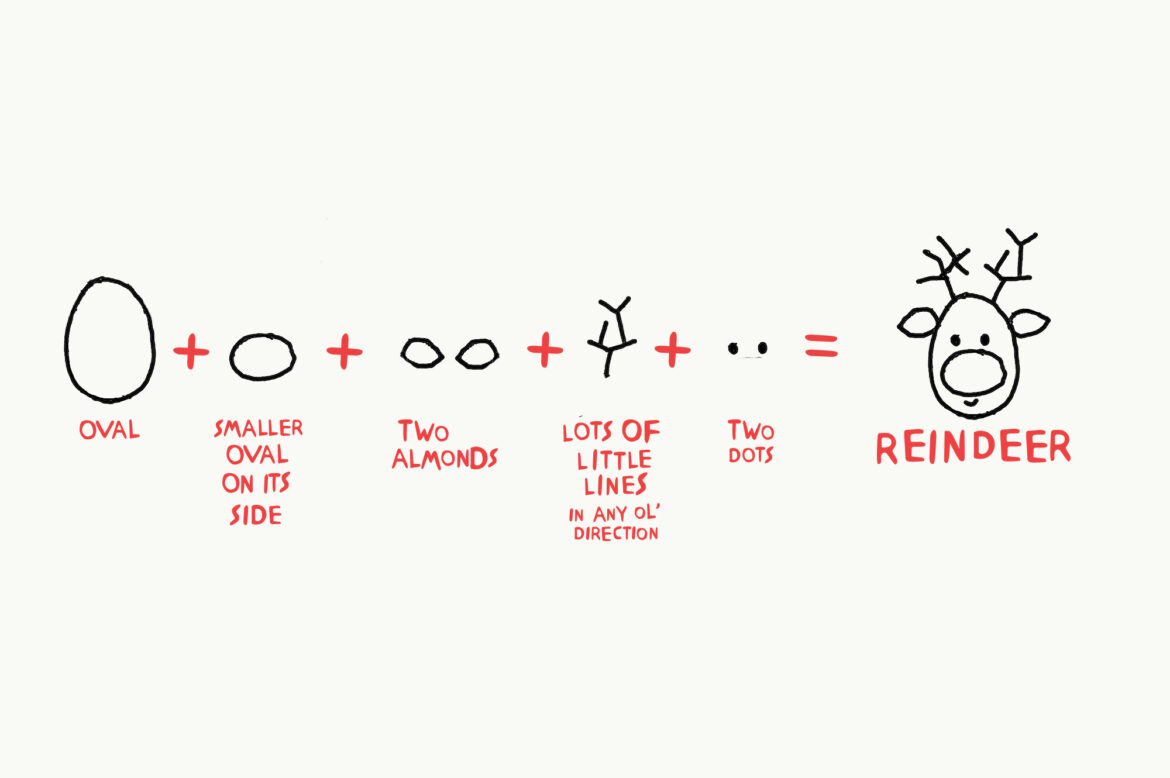 Ta Da!!!!!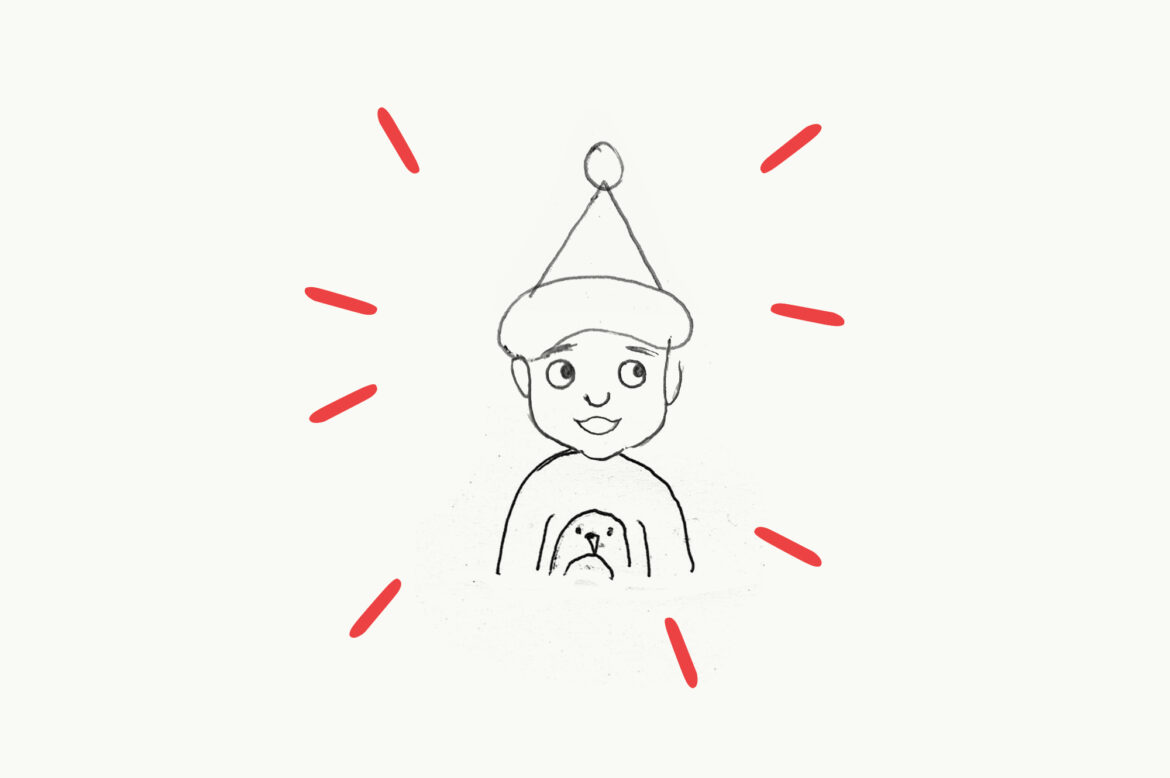 I hope that inspired you have a go! I'd absolutely LOVE to see your creations!!! If you have given this a go please tag me in your pics on social media using the handle @greetingsfromsarah or send me a message if you don't want to show the world. I've been doodling professionally for 7 years and still get nervous about showing people my stuff so either way I'd just be very excited to see them.
Happy Doodling!!! xx